PCOS Management
Regular price
Sale price
$24.00 USD
Unit price
per
Sale
Sold out
Unived's PCOS Management supplement is formulated with the proven 40:1 ratio of Myo-inositol to D-Chiro-Inositol, and also contains key supportive nutrients such as Alpha Lipoic Acid, Chromium picolinate, Vitamin D3, Folate as L-5 Methyltetrahydrofolate, and Natural Calcium from Algae.
We use Caronositol® which is a 100% natural D-chiro-Inositol, derived from the fruit of the Carob tree, a standardized and studied ingredient that has shown tremendous benefits in cases of PCOS.
KEY BENEFITS 
Helps reduces hyperinsulinemia, hyperandrogenism, LH levels

Helps maintain healthy hormonal balance

 

Helps regularize healthy menstrual cycle

 

Helps reduce symptoms of PCOS

like facial hair (hi

r

sutism), acne, and insulin resistance

 

Reduces oxidative stress
Share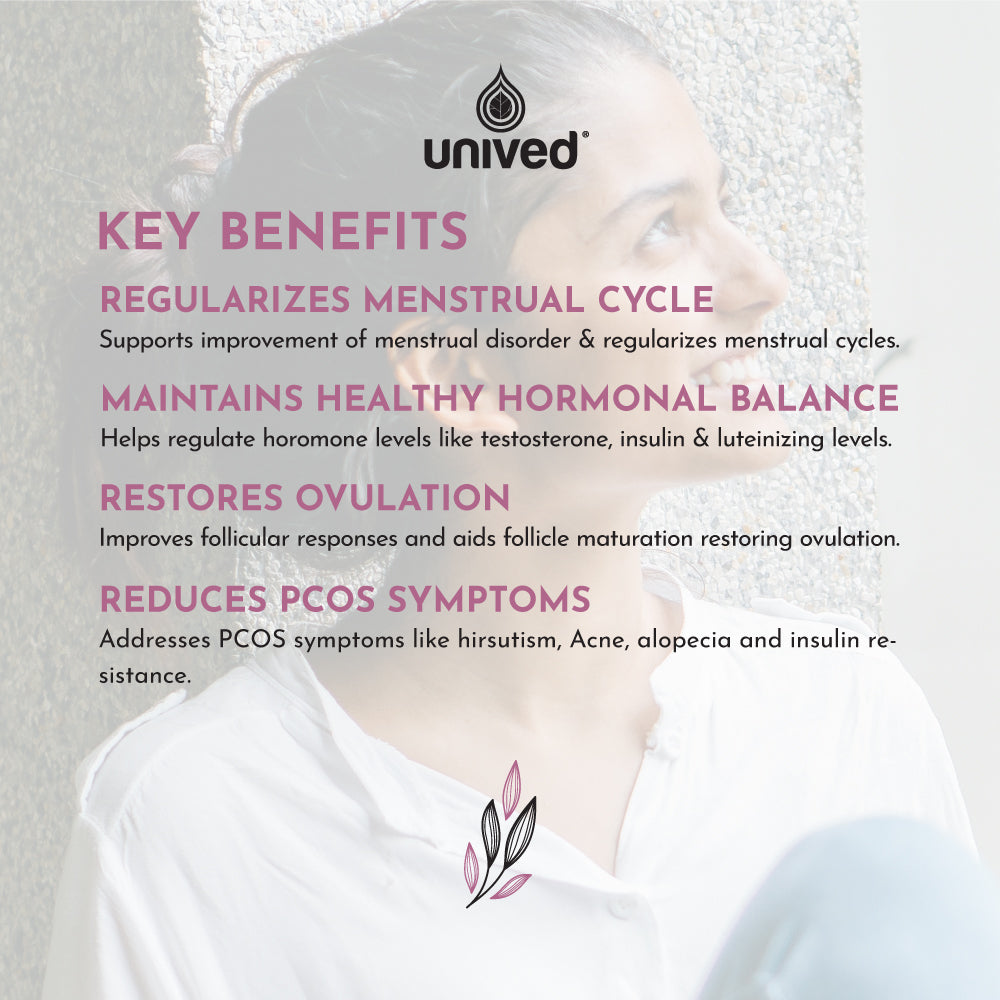 Scientific 40:1 Inositol Ratio
2000mg Myo-inositol and 50mg Natural D-Chiro-Inositol as Caronositol®
Collapsible content
Ingredients

Myo-Inositol – 2000mg, Alpha Lipoic Acid – 300mg, Algas calcareas – 206mg Of which Calcium – 66mg & Magnesium 5mg, Caronositol® (Natural D-Chiro-Inositol 97% from Carob pods) – 50mg, Vitashine™ (Vitamin D3 as Cholecalciferol from Lichen) – 600 I.U., Folate (as L-5 Methyltetrahydrofolate) – 220mcg, Chromium Picolinate – 200mcg

Delivers a 40:1 ratio of Myo-Inositol (2000mg) : D-Chiro-Inositol (Caronositol® – 50mg).
How To Use

Adults take 4 capsules daily post lunch. One may also opt for 2 capsules post breakfast and 2 capsules post lunch.

It is important to ensure you take a 3-6month course to see clear results. People who have been recently diagnosed and are not seeing severe symptoms may see results faster than someone who has a long history of dealing with PCOS.
Plant-Based Caronisotol

We use Caronositol® which is a 100% natural D-chiro-Inositol, derived from the fruit of the Carob tree, a standardized and studied ingredient that has shown tremendous benefits in cases of PC
40:1 Scientific Ratio
Two inositol isomers, Myo-Inositol (MI) and D-Chiro-Inositol (DCI) have been proven to be effective in PCOS treatment, by improving insulin resistance, serum androgen levels and many features of the metabolic syndrome[4].

The enzyme epimerase converts MI to DCI, maintaining a physiological ratio of 40:1, which varies from tissue to tissue. The conversion rate of MI to DCI ranges from 7% to about 9% in normal healthy females and is much lesser in women with PCOS due to insulin resistance in the systemic circulation. In the setting of epimerase deficiency, less MI can be converted to DCI, a state of relative DCI deficiency occurs, and insulin resistance is promoted. This, in turn, leads to the metabolic complications of hyperinsulinemia[5].

PCOS Mode of ActionIn the ovary, MI and DCI have specific duties to perform. MI supports FSH signaling, whereas DCI is responsible for insulin-mediated testosterone synthesis. In the normal ovary, these activities proceed in balance, allowing the maintenance of normal hormonal levels and facilitating ovarian function. In the polycystic ovary, systemic insulin resistance (hyperinsulinemia) accentuates epimerase activity, thus creating a higher DCI-to-MI ratio. This promotes hyperandrogenism and reduces the efficiency of MI-mediated FSH signaling